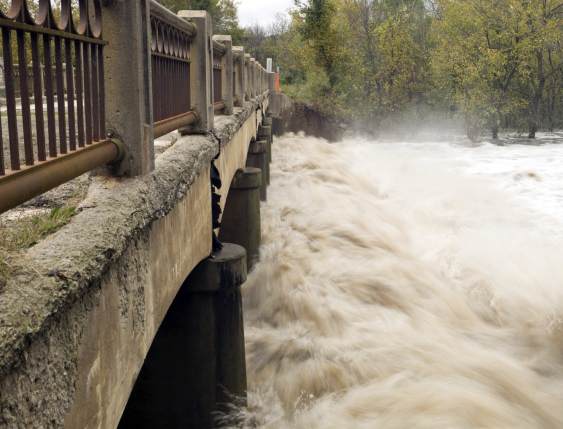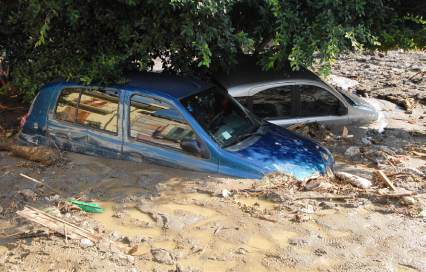 8 |
Living with Dams: Know Your Risk | April 2012
Dam failures are low probability
but high consequence. But, they
typically happen somewhere in the
U.S. every year.
While thousands of lives have
been lost and substantial property
damage has occurred due to
dam failure, good planning and
improved dam safety programs, as
advocated in this brochure, have
reduced loss of life dramatically in
recent years.
Dam failures or partial failures are not
always caused by storm events. Most
fall into one or more of the following
1
Structural failures
defects, including settlement and
slope instability or damage caused by
earthquakes, have caused about 30%
of all U.S. dam failures.
2
Mechanical failures
Malfunctioning gates, conduits,
or valves can cause dam failure
or flooding both upstream and
3
Hydraulic failures
of a dam is often a precursor of dam
failure. National statistics show that
overtopping due to inadequate
spillway design, debris blockage of
spillways, or settlement of the dam
crest account for approximately 34%
of all U.S. dam failures.
These problems can lead to
dam failure:
Inadequate Design Criteria;
Malfunction of dam components;
Spillway damage or malfunction;
Embankment stability problems;
Damage from vandalism; or
There are thousands of dams nationwide
that are considered deficient and
susceptible to failure because of reasons
Planned releases
Operation of spillways, both planned
and in emergency situations, can create
flooding and public safety hazards, even
in absence of a dam failure. During
periods of extreme flow, dams may fill
to capacity, necessitating emergency
releases that can flood downstream
areas. People swimming and fishing
downstream of dams have been caught
in planned spillway releases, at times with
tragic results. Many dams incorporate
sirens to warn the public of an impending